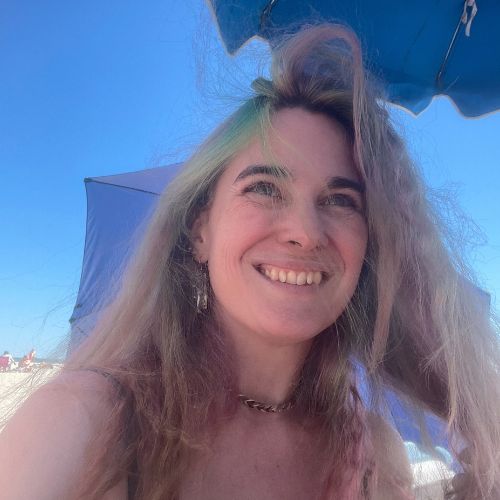 About Anna
Anna Imagination is an award-nominated author and is a pioneer in Psychology. Her abstract Psychological concepts are founded on Philosophy, Psychology, Music Theory, Sociology, Physics, and 30 years of Experience. Her most profound work is the new Psychology she calls "Perspective Psychology." Her work has been credited in multiple Psychology Websites like Fatherly.com and HappiestHealth.com.
After surviving 40 years of Perspective Abuse and Female Domesticated Slavery, Anna used her own Triadic Healing to cure her PTSD (44+ Triggers), Social Anxiety, Dissociative Personality Disorder (Multiple Personality Disorder), Borderline Personality Disorder, Suicidal Ideation, and Depression in as little as 5 years.
Renowned for her no-nonsense, down-to-earth, "street" Psychology, Anna abandons the stiff dryness of Traditional Mental Health Professionals and makes herself accessible and relatable through her Brooklyn, Boho-Hippie presentation, un-deifying Psychology, and bringing it to the masses. She lives by example through her unique "As I Am" style to fight the Conformity of Toxic Traditional Thinking.
The Healing Garden makes Perspective Psychology accessible to New Age Thinkers through Triadic Healing. Triadic Healing is simple, clear, easy to grasp, and integrate. It allows Millennials, ADHD Sufferers, Non-conformists, and Entrepreneurs to DIY their own healing without medication to obtain Optimum Mental Wealth.
Presentations
As I Am – Fee $25,000
On 9/11 of 2001, I was raped at 10:30 that morning.
I would spend the next 20 years fighting the hardest mental battle of my life. In 2015, I was diagnosed with PTSD, No less than 44 Triggers, Social Disorder, Narcissistic Abuse Syndrome, BiPolar 1, Depression, Borderline Personality Disorder, and Suicidal Ideation and Dissociative Identity Disorder. AKA… Multiple Personality Disorder. I was told that there was no cure, that I would be on meds for the rest of my life. That I could expect to be in therapy for the rest of my life.
In 2020, I was told by my therapists that "I crammed 20 years of therapy into 5."
Today, I stand before you on 5 September 2023. I am whole. I am complete. I am sane. I am strong. I am healthy. This is the first September since 1989 that I am experiencing "Just" a September like everyone else.
My story, "As I Am," is how I did it.
And what I did I call "Triadic Healing."
I know how to Cure Mental Illness. And this is the story of how I did it.